New Imagery & Data Download Website:
Access to historical imagery and elevation data is easier than ever with the updated version of the Imagery & Data Download site.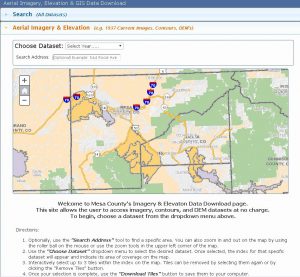 Many internal and external customers including private engineers, planners, and consultants can benefit from the enormous amounts of aerial and elevation data that can be accessed from this new site. Mesa County has always maintained the viewpoint that the data is already owned by the public and should be available at no cost to them as the customer.  This application is one tool to help on various mapping and planning projects.
To access aerial & elevation data go to http://emap.mesacounty.us/DataDownload and use the following 3 steps:
Click on the Aerial Imagery & Elevation category.
Use the "Choose Dataset" dropdown menu to select the desired dataset. Optionally, use the "Search Address" tool to find a specific area. You can zoom in and out on the map by using the roller on the mouse or use the zoom tools in the upper left corner of the map.
Interactively select up to 3 tiles within the index on the map. Tiles can be removed by clicking them again or by clicking the "Remove Tiles" button.
Once selected, the index for that specific dataset will appear and indicate its area of coverage on the map.
Once your selection is complete, use the "Download Tiles" button to save them to your computer.